Halloween Drug-Free Fest
On October 28, 2006, high school students celebrated Halloween by participating in a drug- and alcohol-free party hosted by CGHS D-FY-IT and The Studio, a church located in Coconut Grove off US1. Students, dressed up in costumes from the 70s' time period, disco-danced their way through the night.

Drug Addiction: Disease or Choice?
By: Yadelin Diaz
According to an article written by Alan I. Leshner, "Drug addiction is a brain disease that develops over time as a result of the initially voluntary behavior of using drugs. The consequence is virtually uncontrollable compulsive drug craving, seeking, and use that interferes with, if not destroys, an individual's functioning in the family and in society." Isn't taking drugs a choice? Don't you have the ability to choose to do it and choose not to?
Some people do have an understandable reason for turning to drugs such as abuse in the home, outcast in school, or emotional imbalances. But, it is still one's choice.
How come some people decide to stop taking drugs and never do them again? Simply that, they decided to. Whatever you want to do with your life, you're going to do it. If you really want something bad enough, then you will achieve it. So then why do drug addicts have a disease? Because they want to do drugs.
Hands On Miami Day
A small group of D-FY-IT members volunteered on November 4, 2006 with Hands On Miami (a non-profit organization that is dedicated to service) at Liberty City Elementary School. Members joined other youths around Miami in the process of beautifying the elementary school by painting murals and landscaping.
Members that participated: Michelle Wu, Yadelin Diaz, Nora Arce, Jessica Tello, Andrea Garcia, Marla Marquez, Joselyn Mendez, Ana Aviles, and Christina Hawkins.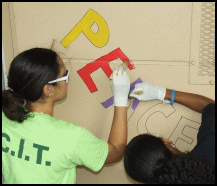 "SoBe Sober Spring Break" Event
In March, D-FY-IT members across Miami met to participate in the "Sobe Sober Spring Break" event. Groups of teenagers, while walking up and down the sidewalks of Miami Beach, passed out informational flyers and pamphelts about the dangers of drunk driving. Members educated tourists from all over the United States.